Expert Storefront Cleaning For Your Sooner State Business Or Commercial Venture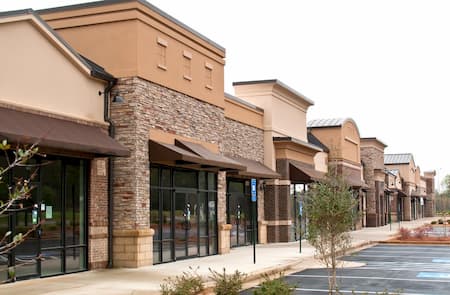 Greeting your customers with a good-looking face is crucial for making a positive impression. That's why our storefront cleaning service is perfect for any Oklahoma City business that wants to give a warm welcome. Our commercial pressure washing is the best choice when it comes to making sure your business always impresses!
Okie Power Washing uses only environmentally friendly cleaning solutions for our pressure washing, so you won't have to worry about damaging your landscaping or harming anyone's health. We keep safety as our top priority when it comes to storefront cleaning, so you can rest easy that not only is the job getting the best treatment, it's getting the proper treatment.
When it comes to something as important as your business, we understand just how crucial it is to leave its care in the hands of experts. Amateur or novice pressure washing just isn't going to cut it when it comes to having your business looking perfect. We deliver elite-level storefront cleaning service in Oklahoma City, and we promise you won't find a higher standard of quality than with us!
What Our Storefront Cleaning Will Bring To Your Business
Getting expert tier pressure washing in Oklahoma City brings with it many benefits. Not only is there the peace of mind that Okie Power Washing uses only premium cleaning agents and the best equipment, but the results our team achieves for your business also can't be matched by any of our competitors. Here are some of the critical reasons you should have Okie Power Washing handle your storefront cleaning needs:
Positive impressions: When your store looks professional and brand new, that will increase the trust and interest customers have in your business. Our storefront cleaning service will have your business shining from top to bottom.

Sanitation: Like it or not, many of the areas in front of your business get exposed to harmful bacteria and other contaminants. Our eco-friendly cleaning solutions will clean and disinfect your storefront.

Maintain the integrity of your surface areas: What clings to the surfaces of your storefront doesn't just look ugly, it can also damage them. Pressure washing is the maintenance needed to protect and expand the lifespan of your storefront surfaces.

Damage free: Unlike other inexperienced or novice pressure washing teams, you don't risk any unnecessary property damage with Okie Pressure Washing. We use the appropriate equipment and technique to ensure your storefront is thoroughly cleaned, risk-free.
Our expert pressure washing in Oklahoma City can achieve much more too! Contact us today for a free estimate or if you have any questions about storefront cleaning.
Complete Commercial Pressure Washing
We have pressure washing expertise that is perfect for many areas of your business's exterior! Keep us in mind if you need any professional pressure washing done, no matter how big or small! We're your go-to source for services such as:
Parking Lot Cleaning

Graffiti Removal
And more! Our team members will also happily consider any special requests you may have, so feel free to ask! For expert pressure washing service you can depend on, no one beats Okie Power Washing!