Trust The OKC Area's Top-Notch House Washing Professionals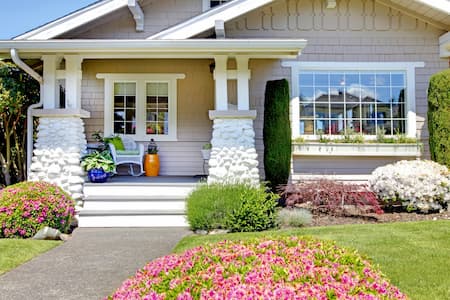 Okie Power Washing is your reliable house washing expert in Oklahoma City. We know that house washing is the best way to achieve a massive boost in curb appeal as well as a fresh, healthy look to your home. Okie Power Washing is your go to pros when it comes to house washing in Oklahoma City because we've been pressure washing here for years, and we understand precisely what house sidings have to go through in our area.
House sidings are durable and made to withstand a lot, but proper maintenance is still required to keep expensive repair and replacement costs at bay. House washing by Okie Power Washing is the perfect investment to keep your home beautiful and clean for many years to come.
The Soft Washing Solution You Can Trust
Okie Power Washing has been pressure washing for Oklahoma City a long time, and with experience comes wisdom. We know that the proper way to get your home as clean as it can be without causing any unnecessary damage is by using a pressure washing method known as soft washing.
Explained simply, soft washing or low-pressure washing is a form of pressure washing that utilizes low pressure and a highly concentrated mix of cleaning solutions to shower a surface area with a strong and soapy foam. This foam breaks down substances such as algae, mold, mildew, and other contaminants that would otherwise be a chore to clean off. Once the cleaning mixtures have done their trick, a thorough rinse of the surface area is all that's needed to reveal a beautiful shine.
The use of low or no pressure washing is vitally important when it comes to house washing. House sidings can be chipped or damaged by using the high-pressured blast that a typical pressure washing can bring, and a headache like that isn't what anyone needs to go through. Okie Power Washing is happy to bring our house washing expertise to your home so you can enjoy a dazzling clean that's safe for your sidings.
House Washing For Any And All House Sidings
No house is the same, nor should they be! Homes of all shapes and sizes will benefit from our professional house washing service! Rest assured that no matter what your house siding material is, the pros at Okie Power Washing can get them a fantastic clean!
Our experts wash a variety of house sidings, including those made of:
Wood

Vinyl

Aluminum

Steel

Fiber Cement
And of course, many more! Whatever type of house sidings you may have, our house washing service is the best way to maintain them and keep them durable and looking great for years to come.
We Offer Many Other Fantastic Pressure Washing Services
Don't overlook our other services if the time has come for professional pressure washing! If you want to get your roof looking like new, our roof cleaning expertise could be just what's called for! Okie Power Washing soft washes all roofs to a sparkling finish to get your shingles in pristine shape so they can continue to protect your home.
From house washing, roof cleaning, fence cleaning, gutter cleaning, and more, nobody does pressure washing in Oklahoma City better than Okie Power Washing!