Your Local Pressure Washing Company In Midwest City, OK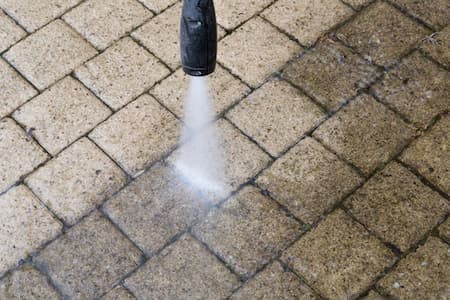 It's always a pleasure to help the lovely people of Midwest City keep their homes and businesses beautiful with our professional pressure washing. Okie Power Washing has been pressure washing in the area of Midwest City and beyond for years. When it comes to stunning results and customer satisfaction, no one outperforms our hardworking team!
Midwest City has plenty to offer its residents and visitors. From fantastic shopping choices, museums, theaters, golfing, and more. It's also the proud home to many of our fine servicemen stationed at nearby Tinker Air Force Base.
If you own a home or business in Midwest City and want to boost your curb appeal and protect your investment, nothing does that better than pressure washing by Okie Power Washing!
Midwest City's Trust Pressure Washing Specialists
There are many benefits of having your home professionally pressure washed. You can expect a rejuvenation of your exterior surface areas as well as:
Extended lifespan: Pressure washing cleans and also protects. We'll remove harmful contaminants that can break down your surface materials.

Boost visual appeal: It's no wonder that properties that look better attract more value. Expect a big bump in curb appeal with our pressure washing.

Increase energy efficiency: Many areas such as your roof and windows will function better when they're professionally cleaned.

Better safety: Places such as driveways and decks can become a magnet for algae and mold, which cause big slipping hazards. Our team eliminates this threat.

Sanitation: Our eco-friendly cleaning solutions are powerful enough to disinfect whatever we clean so yourself, and your loved ones stay safe.
Ready to experience more? Head over to our latest projects page for a good look at what you can expect after our expert pressure washing. Also, keep in mind that Okie Power Washing uses only the best equipment paired with premium cleaning solutions for the most spectacular results.
Have the experts get your Midwest City home in the best shape possible with Okie Power Washing's pressure washing services!
Midwest City's Power Washing Solutions
No matter what surface you have that needs professional pressure washing treatment, we've got you covered. Our crew has a vast array of expert services to help your home or business in Midwest City, and if you need something else done that you don't see mentioned, feel free to ask us! Okie Power Washing loves to help with special requests and projects.
Complete pressure washing satisfaction is available with our many services. These include but are not limited to:
Driveway cleaning: Our surface cleaning system is perfect for removing stains and other eyesores from your driveway.

Window cleaning: For ultimate exterior window cleaning results that can't be achieved any way else!

Deck cleaning: Your deck will look better than ever once it's pressure washed by our team.

Fence cleaning: There's no need to replace your fence. We'll get your fence back to pristine condition with high-quality pressure washing.

House washing: For increased curb appeal and protection against the elements, house washing will do wonders for your home.
We also serve Midwest City with various commercial pressure washing services to help your business look it's best! For all things pressure washing, you can depend on Okie Power Washing!