The Importance Of Parking Lot Cleaning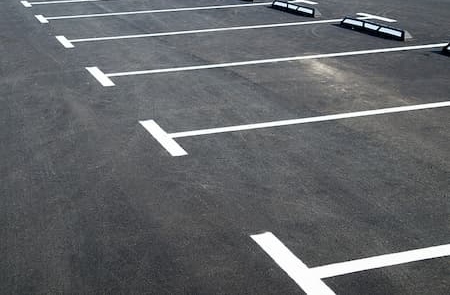 Everyone who has ever gone anywhere in America is well familiar with parking lots and parking garages. If you go shopping or to any business, the hope is they have a designated space where you can safely park your car and make your way to the entrance. Hopefully, you'll even find a spot that's right next to the front door! When we think about arriving or departing a parking lot, that's usually all the thought that we give these vitally important areas. If you're a business owner, you probably think about your parking lot way more than that, though.
Let's run this scenario through our heads: Jane needs to pick up some groceries from her local big box store. She drives herself there and starts slowly circling the parking lot looking for available space. While Jane is driving around, she can't help but notice the trash scattered throughout, the bird droppings, the mysterious puddles of unknown fluids, and perhaps even sketchy people hanging around the parking lot. After a few minutes, she finally finds a spot to park, but as she opens her car door to step foot on the surface, she sees a rat running around nearby. Jane is a little shook up from all this. Her trip to the grocery store wasn't intended to test her nerves, so she slams the car door shut right then and there and decides to go shopping somewhere else.
How unlikely does the above scenario seem to you? Believe it or not, it happens all the time. Parking lots are most often the first area customers will interact with when they visit a business. That's why keeping a clean parking lot is considered essential maintenance to maintain warm appearances and keeping your customers safe. Professional pressure washing is the best way to do this, and our experts can give your parking lot a complete clean that will last.
Why Pressure Washing Makes Perfect Sense For Your Parking Lot
Pressure washing does many things that traditional cleaning can't, and that's why it's trusted as the most effective way of cleaning a parking lot. Scrub brushes and buckets of soapy water isn't going to remove stains and other caked up grime; only expert pressure washing will.
Pressure washing your parking lot will bring an outstanding clean, resulting in many eye-catching and money-saving benefits, such as:
Longer lifespan: Many harmful substances can start eroding and eating way at surfaces such as asphalt, for example. Pressure washing not only cleans but protects your parking lot.

Customer safety: Vehicle fluids and other spills create a very hazardous slipping potential for customers and cars. Pressure washing safely removes these dangers.

Trust: Your customers will be impressed by your sparkling clean parking lot, and this increases their confidence in your business.

Pest control: Rodents and insects love a dirty parking lot for feeding and nesting opportunities. They'll have to look elsewhere when everything is cleaned up.
For parking lot cleaning you can count on in Oklahoma City, contact Okie Power Washing! We also offer many other commercial services, such as graffiti removal and storefront cleaning.